Black Heart Masque TONIGHT
Whether you love or hate Valentine's Day, this event on VD eve promises to be a wonderful night. I've posted the official info below:
P.S. We (
Red Light District
) go on at midnight.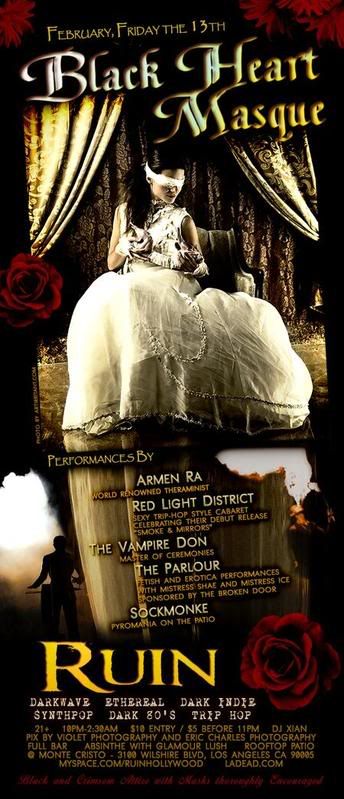 *******
Join us this Friday at RUIN HOLLYWOOD for our Deadly and Divine
engagement, THE BLACK HEART MASQUE. This year marks an especially
exciting match made in heaven (or hell) as we find ourselves falling
on Friday the 13th! For the occasion, guests are highly encouraged to
wear BLACK and CRIMSON Elegance and Extravagence with masks (giveaways
upon entry for those in masks till supplies run out, courtesy of
Panpipes: Magickal Marketplace) , and of course we would love to see a
few black cats running around, as well~
Several delightful performances are in store for you this evening, as
we are joined for a couple songs is world renowned theraminist, Armen
Ra, and for a short set the very sexy cabaret-style group, Red Light
District, celebrating their debut release, "Smoke & Mirrors"! As our
special guest and master of ceremonies, The Vampire Don returns back
from the grave. Additionally we will be joined by the pryomaniac
himself, Sockmonke, featuring all manner of exciting fire play on the
patio throughout the night, and Nui Cobalt will be in attendance
offering wandering psychic readings, compliments of The Psychic Eye!
~*~ $5 ENTRY BEFORE 11:00PM
~*~ (printout not required this week)
~*~ $5 WELL DRINKS TILL 10:30PM!!!
In The Parlour, our esteemed sponsors, The Broken Door (L.A.'s
Premiere Dungeon) showcases the finest dark and sensual Erotica and
Fetish performances, featuring performances this week by our hostess,
Mistress Shae, along with Mistress Ice and Master D. from the Broken
Door. In this realm you may also discover our Authentic Absinthe Bar
hosted by Erika (of Glamour Lush Absinthe).
The ever-evolving Monte Cristo Nightclub serves as the canvas on which
we paint a new masterpiece in nightclubbing, offering brand new sound
and lighting, an expansive smoking patio, valet and street parking,
vast wooden dancefloor, the beautiful new loft-style layout,
coatcheck, and complimentary candid photography with by our special
guests photographers, Violet Photography and Eric Charles photography.
Warming your Black Hearts with a little Dance of the Damned is DJ Xian
spinning a wicked game of Darkwave, Ethereal, Dark 80's, Goth,
Synthpop, Dark Indie, Trip Hop and all manner of your favorite Danse
Macabre melodies, and as ever, prepare for late night because we are
open till 2:30AM~
Dress to kill, dress to die for~
Dresscode: Dark club or upscale attire required.
~*~ RUIN HOLLYWOOD
~*~ Friday Night @ The Monte Cristo
~*~ Doors 10PM-2:30AM · $10 Entry · 21+
~*~ 3100 Wilshire Blvd, Los Angeles, CA 90005
~*~ Entrance & $5 Valet down S. Westmoreland, East of Vermont
~*~
http://www.myspace
. com/RuinHollywoo d
~*~
~*~ Join our email list for better discounts!
~*~
http://www.ladead
. com/list/ sub.php
~*~
~*~ LADEAD: LOS ANGELES DARKSIDE
~*~
http://www.ladead
. com
~*~
~*~ THE BROKEN DOOR
~*~
http://www.thebrokendoor-la.com